aka I've waited until December to do this, feel proud of me.
Full disclosure, in my country we start Christmas early af, so waiting this long to spring this on you was the biggest exercise of self-control ever. Like there is a "100 days of Christmas" countdown! It's serious! Also, since we don't have 'Thanksgiving' it's the biggest celebration we have at this time of the year.
---
So now that that's settled, let's get on with the actual tbr… it's a short one. Ain't no Trinbagonian getting reading time in the middle of cleaning and cooking for the season.
If you love holiday stories, holiday movies, made-for-TV-holiday specials, holiday episodes of your favorite sitcoms and, especially, if you love holiday anthologies, you're going to fall in love with My True Love Gave To Me: Twelve Holiday Stories by twelve bestselling young adult writers, edited by international bestselling author Stephanie Perkins. Whether you enjoy celebrating Christmas or Hanukkah, Winter Solstice or New Year's there's something here for everyone. So curl up by the fireplace and get cozy. You have twelve reasons this season to stay indoors and fall in love.
Sounds fluffy, there's a few authors on here that I've read and enjoyed, and it's CHRISTMAS!!! The. End.
Sparkling white snowdrifts, beautiful presents wrapped in ribbons, and multicolored lights glittering in the night through the falling snow. A Christmas Eve snowstorm transforms one small town into a romantic haven, the kind you see only in movies. Well, kinda. After all, a cold and wet hike from a stranded train through the middle of nowhere would not normally end with a delicious kiss from a charming stranger. And no one would think that a trip to the Waffle House through four feet of snow would lead to love with an old friend. Or that the way back to true love begins with a painfully early morning shift at Starbucks. Thanks to three of today's bestselling teen authors—John Green, Maureen Johnson, and Lauren Myracle—the magic of the holidays shines on these hilarious and charming interconnected tales of love, romance, and breathtaking kisses
Two things: John Green and Christmas. I want this to be so mushy and normal that I am unable to put this book down.
Christmas Days: 12 stories and 12 feasts for 12 days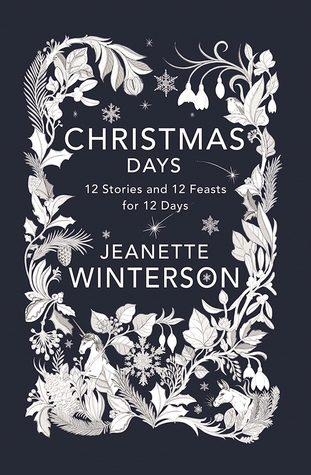 For years Jeanette Winterson has loved writing a new story at Christmas time and here she brings together twelve of her brilliantly imaginative, funny and bold tales. For the Twelve Days of Christmas—a time of celebration, sharing, and giving—she offers these twelve plus one: a personal story of her own Christmas memories. These tales give the reader a portal into the spirit of the season, where time slows down and magic starts to happen. From trees with mysterious powers to a tinsel baby that talks, philosophical fairies to flying dogs, a haunted house and a disappearing train, Winterson's innovative stories encompass the childlike and spooky wonder of Christmas. Perfect for reading by the fire with loved ones, or while traveling home for the holidays. Enjoy the season of peace and goodwill, mystery, and a little bit of magic courtesy of one of our most fearless and accomplished writers
This one I'm unsure about. It came up when I was searching 'Christmas short story collections/anthology' so, that's all there is to say about that. Maybe I might find some recipes I want to try. Who knows?
---
What do you all plan on reading this month? Is anyone else jonesing for Christmas/Kwanzaa/Hanukkah celebrations? Or do you not celebrate either of those? I wanna know!!!
Dee ^_^