aka the time I wanted to binge on something other than prose.
*brought to you by my absolute love of Heartstopper by Alice Oseman*
Charlie, a highly-strung, openly gay over-thinker, and Nick, a cheerful, soft-hearted rugby player, meet at a British all-boys grammar school. Friendship blooms quickly, but could there be something more…?

Charlie Spring is in Year 10 at Truham Grammar School for Boys. The past year hasn't been too great, but at least he's not being bullied anymore, and he's sort of got a boyfriend, even if he's kind of mean and only wants to meet up in secret.

Nick Nelson is in Year 11 and on the school rugby team. He's heard a little about Charlie – the kid who was outed last year and bullied for a few months – but he's never had the opportunity to talk to him. That is, until the start of January, in which Nick and Charlie are placed in the same form group and made to sit together.

They quickly become friends, and soon Charlie is falling hard for Nick, even though he doesn't think he has a chance. But love works in surprising ways, and sometimes good things are waiting just around the corner…


From the author of Solitaire and Radio Silence comes a bind up of the first two chapters of Heartstopper, an ongoing webcomic.

(I've already devoured everything on the website…)
---
This graphic novel was the cutest but with some hard to read moments in between. All the gay love your heart can desire.
Check, Please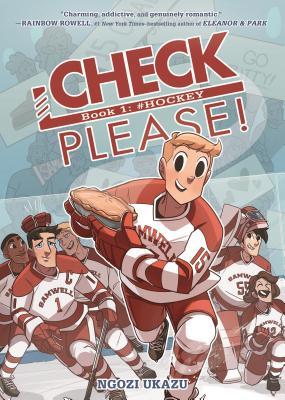 Helloooo, Internet Land. Bitty here!

Y'all… I might not be ready for this. I may be a former junior figure skating champion, vlogger extraordinaire, and very talented amateur pâtissier, but being a freshman on the Samwell University hockey team is a whole new challenge. It's nothing like co-ed club hockey back in Georgia! First of all? There's checking. And then, there is Jack—our very attractive but moody captain.

A collection of the first half of the megapopular webcomic series of the same name, Check, Please!: #Hockey is the first book of a hilarious and stirring two-volume coming-of-age story about hockey, bros, and trying to find yourself during the best four years of your life.
It sounds perfectly millennial and perfectly gay. Yes and please.
Mera: Tidebreaker
From Danielle Paige, the New York Times best-selling author of Stealing Snow, comes a Mera and Aquaman origin story that explores Mera's first steps on land as well as her first steps as a hero or a villain, forcing her to choose to follow her heart or her mission to kill.

Mera is teenage royalty, heir to the throne of Xebel, the other not-so-lost colony under the sea. But Mera is destined to wear a different crown, that of Atlantis. When the inhabitants of Xebel plot to overthrow their homeland of Atlantis, Mera is sent to kill the heir to the throne, Arthur Curry. As the unrest between their colonies grows, Mera and Arthur unexpectedly fall in love…will Arthur Curry be the king at Mera's side in Atlantis, or will he die under her blade?

Mera by Danielle Paige is an astonishing story that explores themes of duty, love, heroism and freedom, all through the eyes of readers' favorite undersea royalty.
I saw a booktuber read it and even though their review wasn't glowing I was still intrigued by the idea. Have you read this one yet? Am I making a big mistake?
Fence!
Nicholas Cox is determined to prove himself in the world of competitive fencing, and earn his place alongside fencing legends like the dad he never knew, but things get more complicated when he's up against his golden-boy half-brother, as well as sullen fencing prodigy, Seiji Katayama.

Nicholas, the illegitimate son of a retired fencing champion, is a scrappy fencing wunderkind, and dreams of getting the chance and the training to actually compete. After getting accepted to the prodigious Kings Row private school, Nicholas is thrust into a cut-throat world, and finds himself facing not only his golden-boy half-brother, but the unbeatable, mysterious Seiji Katayama…

Through clashes, rivalries, and romance between teammates, Nicholas and the boys of Kings Row will discover there's much more to fencing than just foils and lunges. From acclaimed writer C.S. Pacat (The Captive Prince) and fan-favorite artist Johanna the Mad.
Please tell me that I can get Yuri! on Ice level rivalry and undercover romance. I miss that show so damn much.
The Runaways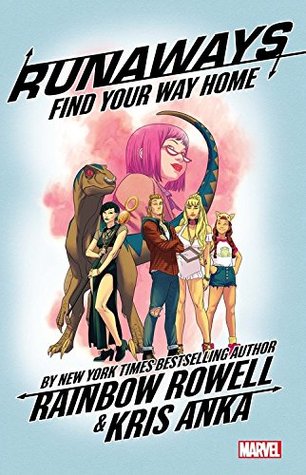 GET READY TO RUN!

The "IT" book of the early 2000s with the original cast is back–Nico! Karolina! Molly! Chase! Old Lace! And, could it be…GERT?!

The heart of the Runaways died years ago, but you won't believe how she returns! Superstar author Rainbow Rowell (Eleanor & Park, Carry On) makes her Marvel debut with fan-favorite artist Kris Anka (ALL-NEW X-MEN, CAPTAIN MARVEL) in the series that will shock you and break your heart! Did Chase and Gert's love survive their time apart? Have Karolina and Nico's feelings made their friendship impossible? What emotional landmines lie in wait to DESTROY the Runaways?!

I'm kinda obsessed with Rainbow Rowell at the moment, and I'll take what I can get until Wayward Son is released.
Saga
When two soldiers from opposite sides of a never-ending galactic war fall in love, they risk everything to bring a fragile new life into a dangerous old universe.

From bestselling writer Brian K. Vaughan, Saga is the sweeping tale of one young family fighting to find their place in the worlds. Fantasy and science fiction are wed like never before in this sexy, subversive drama for adults.

Everyone and the great grandmother recommends this one. It's only right that I add it to my TBR.
---
Have you read any of these? Are any on your TBR? What's your perfect graphic novel?
Dee ^_^