aka the time I gush about fake relationships
This post has been brought to you by my absolute and all consuming NEED to read Red, White and Royal Blue by Casey McQuiston. I have never wanted a book in my hands more than I want this one. And that's saying a lot.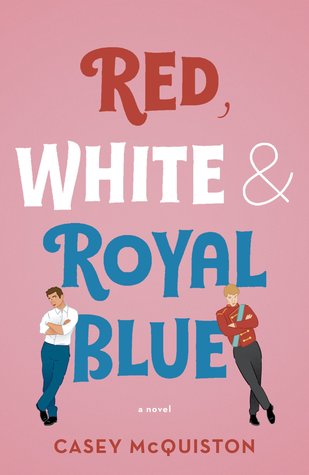 A big-hearted romantic comedy in which First Son Alex falls in love with Prince Henry of Wales after an incident of international proportions forces them to pretend to be best friends…

First Son Alex Claremont-Diaz is the closest thing to a prince this side of the Atlantic. With his intrepid sister and the Veep's genius granddaughter, they're the White House Trio, a beautiful millennial marketing strategy for his mother, President Ellen Claremont. International socialite duties do have downsides—namely, when photos of a confrontation with his longtime nemesis Prince Henry at a royal wedding leak to the tabloids and threaten American/British relations.

The plan for damage control: staging a fake friendship between the First Son and the Prince. Alex is busy enough handling his mother's bloodthirsty opponents and his own political ambitions without an uptight royal slowing him down. But beneath Henry's Prince Charming veneer, there's a soft-hearted eccentric with a dry sense of humor and more than one ghost haunting him.

As President Claremont kicks off her reelection bid, Alex finds himself hurtling into a secret relationship with Henry that could derail the campaign and upend two nations. And Henry throws everything into question for Alex, an impulsive, charming guy who thought he knew everything: What is worth the sacrifice? How do you do all the good you can do? And, most importantly, how will history remember you?
I really want to see how well they do with hiding their true feelings with all of the scrutiny that their positions entail.
Below are some books that have that trope that I could not pass up when I saw them. Some I thoroughly loved, others were just okay. I'm always on the lookout for these types of books, so if you have any recs, send them my way.
To All the Boys I've Loved Before
To All the Boys I've Loved Before is the story of Lara Jean, who has never openly admitted her crushes, but instead wrote each boy a letter about how she felt, sealed it, and hid it in a box under her bed. But one day Lara Jean discovers that somehow her secret box of letters has been mailed, causing all her crushes from her past to confront her about the letters: her first kiss, the boy from summer camp, even her sister's ex-boyfriend, Josh. As she learns to deal with her past loves face to face, Lara Jean discovers that something good may come out of these letters after all.
This one is the perfect example of what I love in this trope. What starts off as fake with a seemingly one sided crush slowly evolves into one of the sweetest loves imaginable. I love when it works out for the characters, when their chemistry is undeniable and they can't resist each other. But it still has to be believable, and Lara Jean and Peter's love was believable.
Roomies
From subway to Broadway to happily ever after. Modern love in all its thrill, hilarity, and uncertainty has never been so compulsively readable as in New York Times bestselling author Christina Lauren's romantic novel.

Marriages of convenience are so…inconvenient.

For months Holland Bakker has invented excuses to descend into the subway station near her apartment, drawn to the captivating music performed by her street musician crush. Lacking the nerve to actually talk to the gorgeous stranger, fate steps in one night in the form of a drunken attacker. Calvin Mcloughlin rescues her, but quickly disappears when the police start asking questions.

Using the only resource she has to pay the brilliant musician back, Holland gets Calvin an audition with her uncle, Broadway's hottest musical director. When the tryout goes better than even Holland could have imagined, Calvin is set for a great entry into Broadway—until his reason for disappearing earlier becomes clear: he's in the country illegally, his student visa having expired years ago.

Seeing that her uncle needs Calvin as much as Calvin needs him, a wild idea takes hold of her. Impulsively, she marries the Irishman, her infatuation a secret only to him. As their relationship evolves and Calvin becomes the darling of Broadway—in the middle of the theatrics and the acting-not-acting—will Holland and Calvin to realize that they both stopped pretending a long time ago?
Holland and Calvin's relationship just fell short for me, as much as I was rooting for them. It was cute enough that it warrants mentioning whenever anyone asks for a marriage of convenience rec.
Married by Mistake
Do not adjust your set. That really was Casey Greenebeing jilted by her fiancé on live TV! And that really was Memphis's most eligible bachelor who stepped in to marry her instead. Millionaire businessman Adam Carmichael wanted only to help Casey save face. He isn't prepared for the news that their "fake" wedding is legal and binding. While they secretly wait for an annulment, media and family scrutiny forces them to put on their best loving-couple act. Except by now, neither one is quite sure who's acting…
Just the very idea of this one had me grabbing for this book. I mean, how awkward for Casey, and how sweet of Adam to jump to the rescue. I just had to. I didn't love the execution but I don't regret reading it and I wouldn't be opposed to reading another one like it.
The Wedding Trap
Beth Bradley has a problem. Everyone is expecting her successful music executive boyfriend, Charlie, to be her date for her best friend's wedding. There's one hitch: Charlie doesn't exist. Unless she can think of something fast, she's headed for the most humiliating weekend of her life. Alex Tanner has a problem. The former Navy SEAL's search for a double agent lands him at the Kensington Hotel, and he needs a cover to finish the job. When the sexy maid of honor blackmails him into pretending to be her lover, he thinks he's been handed the solution.
Except Beth has a way of stumbling into trouble, and when the man Alex is hunting starts targeting Beth, Alex has to decide between duty and the woman who has stolen his heart.
The fake relationship wasn't as big a part of this book as I had expected when I picked this one up. But the moments that it did come in to play, I loved. I felt sorry for Beth's situation (plus her mother was infuriating) and I was happy with the way Alex would come to her rescue every time. Cute.
Roomies with Benefits
She needed a fake fiancé. I needed a roommate.
But now I want more than benefits…
There's nothing fake about my love.

I only wanted to help her. Abigail is my best friend's little sister.
Hot, sassy, and down on her luck. So, I took her in.
Now I can't stop thinking about her. Watching her. Wanting her.
Her sinful curves play with my mind.
But she's off limits.
Her psycho ex is back, and he won't take no for an answer.
She needs a fake fiancé to get rid of him,
But there's nothing fake about my feelings.
Abigail's more than just a roomie with benefits.
If her ex touches her, I'll show him more than just the door.
I don't need a weapon to maim, all I need is my fists.

Abigail thought it was all fake… it's time to show just what's real.
These two were so oblivious it made my eyes ache. Come ooooon, get your shits together man. Definitely not PG 13, and be prepared to be annoyed with everyone in Abigail's life. Every. One. Except her best friend and Ian.
Have you read any of these? Or anything with this trope? I'd love to hear about it.